Two-In-One Design

Our Hall Trees for the entryway provide many hooks for hanging jackets, coats, or bags. You can use a coat and shoe rack entryway to store sports shoes, high boots, and so on. Hall tree with shelves is a combination of entryway coat rack and shoe rack coat rack combo for all your storage needs. Let you more intuitive daily go out collocation.
Four Layers of Shoe Rack
Coat rack with shoe storage has 4 in total, shoe rack coat hanger by adding steel tubes, plastic joints, and non-woven fabric assembly and become. Hall trees for entryway with storage have very sufficient space to use deposit shoes. The sandwich cloth on the shoe and coat rack not only prevents small items from falling off but is also easy to clean and can be removed and cleaned one by one.
Easy-To-Install Hall Tree
You can use our installation tools to quickly install the entry coat rack according to the installation instructions. The hall trees with shelves are light enough to be installed by a single person. Although the shoe rack coat hanger is light in weight, hall trees is hard and not easy to break.
Delicate Hall Tree With Shelves
The simple and generous design of the shoe and coat rack for the entryway will complement any decor. The orderly, refined look of the shoe rack and coat rack shows a good sense of design for your entryway space, creating a relaxed and comfortable aesthetic.
Simple And Beautiful
With a coat rack and shoe rack versatile color scheme and simple structure, the coat rack shoe bench can be placed anywhere. The shoe rack and coat rack for the entryway is easy to move and covers a small area, the coat rack for the entryway releases more space for small rooms. Hall tree with a storage bench makes your room more clean and beautiful.
Product Dimensions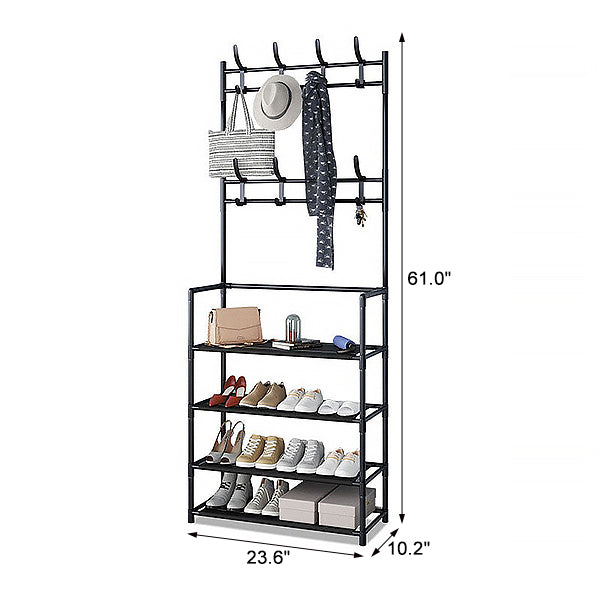 Specifications
Overall 

Size

61.0" H x 23.6" W x 10.2" D




61.0" H x 31.5" W x 10.2" D

Weight
2.6lb/2.9lb

Material

Painted steel pipe

Product Care

Wipe with damp cloth


Packing Included

5 layers of corrugated cardboard


Assembly Method

Manual Assembly(

Prohibit the use of electric screwdrivers

)